<!-DHTML scripts by Dynamic Drive (http://www.dynamicdrive.com)-->
NOTE: To STOP The Music That's Loaded on This Page ...
Scroll-down To The YouTube Video That's Playing, Then Hit The 'STOP' Button!FREE Software Goodies For You and Your Machine ...



"GIZMO'S" BEST, (EVER) FREEWARE SITE!
The Primary Function of This Community-Based Website, Is To Help You
Select The Very Best Freeware Products, For Your Particular Needs ...
The best freeware programs are as good as, (or better than) their commercial counterparts.
However, finding the most appropriate program, can be, (at the very least) challenging.
Sure, there's dozens of decent freeware download websites out there on the web,
but, (as you know) few of these, actually help you select the best programs for your needs.
That's what they do -- No, downloads, (yes, links to them) just honest advice and useful guidance.
This is a community based site, that's operated by Ian "Gizmo" Richards ...
As this is a community-based site, it has been studiously staffed,
by over 60 volunteers and has no commercial affiliations.
'Gizmos' - Best (EVER) Freeware Website!
'Gizmos' Big List: "The Best FREE Software For Windows Personal Computers"




MAJOR GEEKS: "Ten-hut -- Listen-up People!"
MajorGeeks.Com, Was Founded Upon a Few Simple Premises:
*That The Term; 'G-E-E-K,' Isn't ONLY A Four-Letter Word, But A Way Of Life!
*Proper use of a pocket protector is not only handy, but a snazzy fashion statement.
*That using personal computers as a hobby, doesn't necessarily Rule Out The Chicks.
*That Access To a Collection of Geekware, Is a God-given Right -- NOT A Privilege!
MajorGeeks has files, that tweak, repair, back-up, enhance, protect and much more.
(Think of MajorGeeks As; 'A VERY LARGE Toolbox For Your Personal Computer!')
Having the right tools for the job, is all you'll ever need, to make your PC behave!
(Sorry, you probably won't find any 'Sexy Asian Ladies' Screensavers, or
(E-books) on how to 'comb a horse,' or other similar garbage there.)
If you need any assistance finding something, visit 'The Boot Camp' or,
you can sure check out the cool 'Must-have' FREE Downloads List or,
(for some fun, reliable, personal help) stop on by; The 'Support' Forum ...
I think you'll discover the forums section friendly, (as well as fun and useful).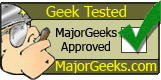 Where's My PC!? 1.2.8 (Windows)
According to Safeware Insurance Agency in Columbus Ohio, (Safeware.Com) more than 600,000 laptops are lost, (or stolen) each year, with a recovery rate of less than 2%. When you lose your computer, you lose a lot more than just the few hundred dollars the computer was worth. You lose the photos and videos of your children, (that can never be replaced). You lose your college thesis or the business report you've been working on for the last 6 months. (You know, the one that was going to get you that big promotion?) Regardless of what you've got on your computer, losing it is always a BAD thing. So, why not do everything you can, to protect your investment ... For FREE?!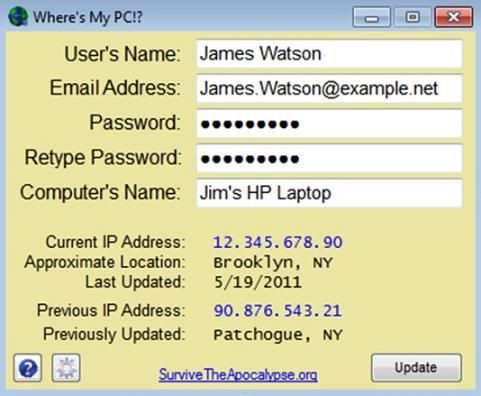 Where is My PC!? is a simple utility designed to help locate lost or stolen computers. It works by registering the computers IP address in a database at user defined intervals. The user can then access the database remotely, via the portal. The user can then trace that IP address, using any number of free web services and determine the computers approximate location. Local authorities will be able to use that IP address to determine the EXACT location of your PC, and hopefully recover it. This program automatically runs in the background when the computer boots up. You can access the user interface, or close the application by clicking the icon in the system tray. The interval between IP updates can be set, using the in-program settings menu. Once set up, "Where is My PC!?" is entirely autonomous. It runs silently on startup and requires absolutely no user-input, so you can just set it and forget it. And at only 500KB, meaning, that it's small and compact enough, to run constantly in the background without decreasing system performance whatsoever.
To be perfectly honest, "Where is My PC!?" software is not entirely unique. There is other software out there, that does the same job. Some of it's good, some of it isn't. Some of it's free and, some of it, is not so free. "Where is My PC!?" is absolutely 100% FREE. There's no "Pro Version" that costs $x.xx every month and there are no annoying 'pop-up' ads built into the program.

You don't need to sign any contracts, or provide any personal information.
The bottom line: this program does what it says, without any problems ... FREE.
Format: Software Size: 951 KB
Cost = FREE
Platform: Windows
http://survivetheapocalypse.org/Wheres-My-PC.php
http://survivetheapocalypse.org
Freeware (& Shareware)
Software, & Services Guide
If You're Curious To See What Software I Install on My Computer Systems, Go HERE ...

Free Software Update Checker
http://www.filehippo.com/updatechecker/

PC Fixer ...
A completely FREE online service,
that scans for, detects, and repairs computer issues immediately, (WOW)!
http://www.DigitalSupportTech.com

1 TERABYTE of STORAGE,
For YOUR Pictures, Movies and Music Files - FREE!!!
http://www.Oosah.com

USBDLM -- A Windows Service, That Gives Control Over Window's Drive Letter Assingments
For USB Drives, running as service, makes it independent of the logged on user's previleges,
so there's no need to give the users the previlege, to change drive letters.
It automatically solves conficts between USB drives and network,
or subst drives of the currently logged on user.
Furthermore, you can define new default letters for USB drives and much more.
http://www.uwe-sieber.de/usbdlm_e.html

Free Support For ALL Electric Gadgets, TVs and Even Appliances!
http://www.FixYa.com

Free Repair tool for Microsoft FrontPage errors:
FP Cleaner
http://www.95isalive.com/fixes/fpclean.htm

CircleUp (SmartMessage™) Group Communications Services
What if you could e-mail or IM a question to a group of any size ... Say, 5, 50 or 500 people
and get back a single, organized result instead of a blizzard of responses?
What if it worked for any circle you belong to ... Online, or offline?
Sports, volunteer organizations, school groups, clubs, churches, social networks, political campaigns,
alumni professional organizations ... even ad-hoc groups at work or with customers?
What if it made your existing e-mail and instant messaging accounts more organized
- without downloading anything or doing anything differently?
What if nobody in the group had to download anything,
or sign up, or 'register' to see the results?
What if it was 100% - FREE?! -> http://www.CircleUp.com

Darik's Boot and Nuke (DBAN)
A FREE Utility, For Permanently Erasing Data Off of a HDD, (Hard Disk Drive):
http://dban.sourceforge.net

Thousands of FREE "How-To" Videos From The Experts:
Everything from how to change the battery in your car, to unclogging a sink, Setting up a computer network,
exercising properly, training a pet, playing an instrument, landscaping and more!
There are over 18,000 other instructional videos to choose from!
http://www.expertvillage.com

Win XP machines, with multiple users, are often broken or disabled by spyware, or other unwanted programs.
Windows 'SteadyState' (FREE from Microsoft) keeps your shared access computer running!
http://www.microsoft.com/windows/products/winfamily/sharedaccess/default.mspx

Free advice for running your own computer business:
http://www.TechNibble.com

Create a custom home page for your browser, FREE!
http://www.pageflakes.com

Remove Your ISPs 'Branding' From YOUR PC!
ISP 'branding' includes Toolbar background image, Default Page URL, Window Title, Search Bar,
customized Search URL, customized Support URL in the Help menu, customized name for Windows Update -
Tools menu, Window Title for Outlook Express (stored on a per-identity basis)
http://windowsxp.mvps.org/ie/ispunbrand.htm

Free Anti-Phishing and Internet speed-up:
http://www.opendns.com

Complete Photo Editing on The Internet, For FREE!
Picnik offers web-based one-click photo fixing as well as in-depth tweaking.
You can crop, rotate, and resize your photos in real-time and add tons of special effects.
It's amazingly fast, works directly with many photo sharing web-sites and
there's no download required and nothing to install!
It works on Mac, Windows, and even Linux!
http://www.picnik.com

Free Points of Interest for your GPS:
POI Factory is a place where GPS users get together and share locations.
Mostly, the site is about having fun, helping each other with questions,
and sharing places that you find interesting or useful.
http://www.poi-factory.com

'Sandbox' Your Browser:
Put Internet Explorer and/or Firefox in their own 'sandbox.
Then, as you browse the web, any spyware or mal-ware that installs during your Internet surfing,
will be contained within the sandbox and will not infect your entire system.
It's that easy and it's FREE! http://www.sandboxie.com

Wireless Key Viewer
WirelessKeyView recovers all wireless network keys (WEP/WPA) stored in your computer,
by the 'Wireless Zero Configuration' service of Windows XP and the 'WLAN AutoConfig' service of Windows Vista.
It allows you to easily save all keys to text/html/xml file, or copy a single key to the clipboard.
http://www.nirsoft.net/utils/wireless_key.html

Free DVD Authoring software:
http://dvdflick.net/download.php

Fix numerous Windows XP issues for FREE:
Dial-A-Fix
http://www.dialafix.net

FREE 'Start Menu' Cleaner:
Start Menu Cleaner is a freeware utility which cleans the start menu,
by removing unneeded shortcuts and folders. Most applications adds folders and shortcuts to the start menu.
The problem is, when you remove the program, its folders and shortcuts sometimes remains in the start menu.
This can make your start menu somewhat messy. Start Menu Cleaner scans all shortcuts in your start menu
and removes empty folders and shortcuts which points to files that no longer exist.
The result is, a smaller, cleaner, more efficient start menu.
http://www.download.com/Start-Menu-Cleaner/3000-2342_4-3668490.html

Free Browser Security Software:
Avoid Web pages with unwanted content and hidden threats with TrendSecure:
http://www.trendsecure.com

Free Drive Imaging Software:
DriveImage XML
http://www.runtime.org/dixml.htm


Registry Repair:
CCleaner
http://www.ccleaner.com/
(ALSO DUMPS TEMP FILES AND LOTS MORE!)
Glary Utilities
http://www.glarysoft.com/gu.html
JV16 Power Tools 2007 (Shareware - free to try, $29.95 to buy)
http://www.macecraft.com/eshop/jv16powertools2007
FREE PC Security Software:

Secunia Personal Software Imspector
http://secunia.com/vulnerability_scanning/personal/
FREE ANTI-VIRUS SOFTWARE:

AVG FREE Anti-virus, (It's What I Use!)
http://www.avg.com/product-avg-anti-virus-free-edition
(To avoid the 'run-around,' Go HERE, for the direct download of AVG's FREE v.8.5)
ALSO FROM AVG ...
A Cool FREE Tool, For Repairing Seriously Infected PCs
"AVG Rescue CD: A Powerful Toolset, For Rescue & Repair of Infected Machines."
(For Windows XP, Vista and 7)
Every PC user has to deal with 'malware' at some point. Quality security programs are the first line of defense. And they can block or remove nearly any infection. But no system is perfect. Occasionally, a really bad piece of malware comes along. It could wreak serious havoc. If it's bad enough, even starting the computer might be impossible. If you can't start your computer, how do you fix it? Most people will never run into something like this ... But It DOES Happen! Fixing it requires a different kind of tool. That's what 'AVG Rescue CD' is for. It contains various antivirus and anti-spyware tools. You can burn it to a CD. Or you can install it on a thumb drive. Then, instead of booting into Windows, you boot from your CD or thumb drive. The anti-malware tools can be used to recover your system. You can clean out everything, and then get back to Windows.
(
NOTE:
This is
NOT
a program you run from within Windows ... It
must
be burned to a CD, or installed on a USB drive. You can then boot your computer into the program. For detailed instructions on how to use it,
visit this AVG page
.)
You can download the AVG Rescue CD from the
download section
for free. There are two files you can download -
ISO file
and
RAR
/
ZIP
archive. The ISO image can be used to burn a CD or DVD. The archive can be extracted on USB drive.
MORE FREE ANTI-VIRUS PROGRAMS ...
A'vast
http://www.avast.com/eng/programs.html
TrendMicros Housecall (online scan only)
http://housecall.trendmicro.com/
ClamWin
http://www.clamwin.com/
THREAT-FIRE AntiVirus FREE!
- Behavioral Virus and Spyware Protection -
http://www.threatfire.com/
PC Tools AntiVirus - FREE Anti-virus Software
(Download the FREE 'Registered' Version ...)
http://www.pctools.com/free-antivirus/
Free Spyware/Virus Scans:

Nano Scan
http://www.nanoscan.com/
HiJackThis
http://www.trendsecure.com/portal/en-US/tools/security_tools/hijackthis
HiJackThis Log file analyzer
http://www.hijackthis.de/
Free WinSock repair software:
WinSockXP Fix
http://www.snapfiles.com/get/winsockxpfix.html
Free Anti-Spyware Software:
Spyware Terminator - With 'Web Security Guard'
(A Very Effective, Great
FREE
Utility, I Use It on ALL of My Machines!)
'ClamWin' Anti-virus included - - you can activate, (if you so choose).
http://www.spywareterminator.com/
Super AntiSpyware
http://www.superantispyware.com/
MalwareBytes
http://www.malwarebytes.org/
SpywareBlaster
http://www.javacoolsoftware.com/
Windows Defender - (FREE, From Microsoft)
http://www.microsoft.com/athome/security/spyware/software/default.mspx
Free Windows Utilities:
Nlite - Windows Deployment Tool
http://www.nliteos.com/
DriverPacks adds thousands of necessary drivers to your Windows XP installation CD
http://driverpacks.net/
Gspot Codec Finder
http://www.headbands.com/gspot/
Startup Cop Pro 2
http://www.pcmag.com/article2/0,1895,1830362,00.asp
AM DeadLink
http://www.aignes.com/
Yahoo Widgets (formally Konfabulator)
http://widgets.yahoo.com/
Eraser (for secure hard-drive wiping!)
http://www.tolvanen.com/eraser/
Free image editing software:
Picasa
http://picasa.google.com/
Free File Recovery Software:
Restoration
http://www.snapfiles.com/get/restoration.html
Recover Files 2.02
http://www.undeleteunerase.com/
FREE FIREWALL Software:

COMODO - (It's What I Use!)
http://www.comodo.com/
PC Tools Firewall Plus - FREE Firewall
http://www.pctools.com/firewall/
Sunbelt Personal Firewall (Formally known as Kerio Personal Firewall)
http://www.sunbelt-software.com/
Auto-enter Passwords:

Save Your Passwords -- In A Very Secure Document
Password safe
http://www.schneier.com/passsafe.html
Free Browsers:
Firefox
http://www.mozilla.com/firefox
Opera
http://www.opera.com
Maxthon
http://www.maxthon.com

FREE Security Privacy Product,
Ensures Anonymity While You're On-line!
Public networks (both wired and wireless) are great ... After all,
what would life be -- without connecting, while at airports, hotels and coffee shops?
However, the danger to your personal data exists, even if you connect to a fee-based open network.
Your passwords, credit card numbers, and any data you send, can be seen and associated with you personally.
Standard antivirus software won't protect you, as this threat is on the network, not your laptop or iPhone.
That's Why,
AnchorFree Offers 'Hotspot Shield'
.
The application that keeps your Internet connection secure and anonymous on public networks!
(Used by Chineese Citizens To 'Go-around' YouTube Blocks & Other Censorship, etc.)
Free Spam filtering:

Thunderbird
http://www.mozilla.com/thunderbird
SpamBayes 1.0.4
http://spambayes.sourceforge.net
SpamPal
http://spampal.org
Free Instant Messaging without pre-installing any software:
Meebo
http://www.meebo.com
Free people search and public information search engine:

ZabaSearch
http://www.zabasearch.com
Free and instant home data and valuation:
Zillow
http://www.zillow.com
E-mail entire web-sites, (instead of just sending the links) for FREE:
JumpKnowledge
http://www.jkn.com
Free Star Trek LCARS Screensaver (Windows and Mac):
System47 (Flash-based -- Enterprise Console) W/sound or 'silent'
http://www.mewho.com/system47
Find The Cheapest Airfares, HERE:

http://www.kayak.com
Free Remote Access Software:
LogMeIn
http://www.logmein.com
CrossLoop
http://www.CrossLoop.com
RealVNC
http://www.realvnc.com
UltraVNC
http://www.uvnc.com
UltraVNC SC
http://lifehacker.com/software/vnc/geek-to-live
-tech-support-with-ultravnc-singleclick-198532.php
(As Featured Below, In The "FREE Tech Support" Section!)
LogMeIn - Simply Connected
Access Your Computer Remotely, from Anywhere – FREE!
https://secure.logmein.com/products/free/
Free DVD Movie Copying Software:
http://dvdshrink.org
Free Music CD ripping software:
Exact Audio Copy (use to rip files to WAV)
http://www.exactaudiocopy.org
RazorLame (use to convert WAVs to MP3s)
http://www.dors.de/razorlame/index.php
Free Hard Drive Diagnostic Software - Seatools for Windows (Recommended):
http://www.seagate.com/www/en-us/support/downloads/seatools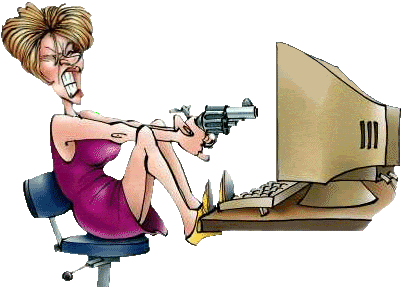 ~ FREE TECH SUPPORT ~
Case's Corner's
FREE
Tech Support ...
CasesCorner.Com - FREE (Windows OS) PC Help
5 Star Support - Free Computer Help and Technical Support
A Free Computer Help and Technical Support Site, Featuring Free Computer Help
Along With Thousands of Tips, Tricks, Tutorials, DLL File Downloads and much more!
http://www.5starsupport.com
Computer Questions? Get Answers From Bob Rankin!
Need
FREE
Tech Support? Ask Bob about Computers, Technology,
Gadgets or The Internet! (Cool, Informative, News Articles There, as Well!)
http://www.askbobrankin.com
Elizabeth Boston - "The Computer Lady"
Tips, Troubleshooting and Tutorials for Computer Problems.
http://www.asktcl.com/
Geek to Live - Tech Support: (With UltraVNC SingleClick)
PC-to-PC Remote Help - From 'Life Hacker'
~ Tech Support Guy - Tech Support Forum ~
Also Featuring;
The "Computer America" Radio Show!
"
Click HERE, To Listen Now! (WM-Player)
"There's no such thing as a stupid question,
but, they're the easiest to answer!"
http://www.techguy.org
Zolved
http://www.Zolved.com
Protonic
http://www.Protonic.com
---

IF YOU WANT ANY OF THE FOLLOWING, FREE "GOODIES" SOFTWARE WEBPAGES, (That Were AOL Subpages) I'VE SAVED,
THEN CLICK ON THE LINK(s) BELOW, TO HAVE ME E-MAIL THEM TO YOU, (via e-mail Attachment)
ALL YOU Have To Do Is ASK, AND I'LL BE HAPPY TO SEND THEM TO YOU!


CASE'S CORNER'S GOODIES-1:
MORE GOODIES-2: (More Freeware & CP2V!)
EVEN MORE GOODIES-3: (Even MORE Freeware & CP2V!)
---
---
---
~ Click HERE To Get FREE MS 'PowerToys' for Windows XP ~
A Handy-Dandy, Little List of Freeware Sites To Enhance Your PC!
*FREE SCREENSAVERS! (From Freesaver.Com) http://www.freesaver.com/
That's right, totally FREE! NO shareware, NO nagging messages wanting you to pay something later, all of the Screensavers featured are absolutely, totally free! There's well over 1,600 + to choose from. I'm certain you'll be relieved to know, that all of the Screensavers featured, have been scanned for Adware, spyware and viruses. (That's the way we like it, right?) You could be at this website for quite a while ... I LOVE IT!

*CURSORS, Cursors and More Cursors! http://anicursor.de/cgi-bin/urlsrch.cgi
Aren't you tired & bored with the standard Windows cursors? Yeah? Well, there's something you can do about it! Go to "Dierk's List of Animated Cursors" and help yourself! Select from an enormous list of nice, FREE Animated cursors for your computer.

*FREE FONTS! (From Font Paradise) http://www.fontparadise.com/
That's right, Fonts ... FREE & Clear For The Download! By the way, it should be noted that Font Paradise lists only Windows True-Type fonts, free for personal (noncommercial) use. They ALSO offer a 1,500 font package that you can download to your Puter's Hard Drive, for only $4.95! (Oh, while your there, go ahead and grab their free "font downloader" tool ... just to make things go a little smoother.)
Please Note: Most folks are unaware that in order for other folks to see a font that doesn't normally come with Windows, They will need to download the same font to see it, (if you're using a "Papyrus" font, the viewer needs the Papyrus font on their machine as well).

*FREE SOUNDS FOR YOUR PC! http://www.dailywav.com/
Sound Events Fer Yer Puter! Tired of your standard windows sounds? Once again, there's something you can do about it! Download your own sound files to make your PC sound(s) trippy! Those of you who know me personally, know what MY machines sound like, right?

*FREE UTILITIES From ANALOG-X: http://www.analogx.com/contents/news.htm
AnalogX offers the following FREE stuff: Network & Internet Utilities, Direct-X Plugins, Audio tools, Programming Utilities, System Utilities and even a Free Caller ID program and much more! Some of these programs have been featured in my free weekly newsletters ... Stop by, cruise around, download some stuff and let him that know that you appreciate his programs, via the free registration when you download his stuff.
---
---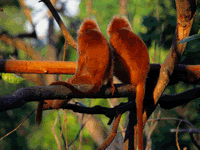 FREE SOFTWARE TO PROTECT YOUR FAMILY!
(FAMILY FRIENDLY SOFTWARE)*
Teen Chat Acronym Lookup Decoder Software
FREE! (.Exe) Size: 690KB (
http://www.cybersamurai.com/teenchatdecoder.htm
) System Requirements: Win 95/98/ME/NT/2K & XP
This free Teen Chat Acronym Decoder lets you 'Crack The Secret Code' your teen uses online, in Chat Rooms, online chats, Instant Messages, & Text Messages. This is an awesome software for parents because it gives you an inside look into your teenagers online life. Software is also certified spyware free. Version 5 has all new interface design, smaller file download size, comprehensive 3x increase in acronym database, now all variations of acronym are displayed as the user types, faster acronym look up, and new parenting resource links and help.
*
Keylogger Software - Actual Keylogger
FREE! (.exe) Version: 2.4, Size: 927KB (
http://www.actualkeylogger.com
) System Requirements: Win 95/98/ME/NT/2K/XP & 2003 Server
Actual Keylogger is a FREE key logger, that records every keystroke to an encrypted log file with the title of the window that was active at that moment. Actual Keylogger runs hidden in the background and automatically logs all keystrokes. The interface can be password protected. Only the person who knows a special key combination can control Actual Keylogger. You can view the reports as HTML or plain text. (
Download it from HERE ...
)
---
<-BACK (Home)



e-mail Dan @ CC.C

NEXT (PC Solutions!)->
---